Structural Glued Laminated Timber
At SWS, all glued laminated timber is manufactured per order to ensure the highest quality possible. We provide anything from beam blanks for field fabrication to an entirely fabricated product with connection hardware ready for installation. Meeting the needs of our customers is our first priority, which is why our engineered Southern Pine timbers have become hallmarks in some of America's most impressive architectural achievements. You can put your trust in our durable glulam products.
Design possibilities are very flexible, ranging from straight beams, radial members, arches, and trusses. We excel in manufacturing large timbers and complex fabrication projects. Pressure treatment and factory pre-finishing are available. Custom fabricated Southern pine laminated timbers provide long, clear spans without intermediate supports, eliminating false ceilings and other framing cover-ups.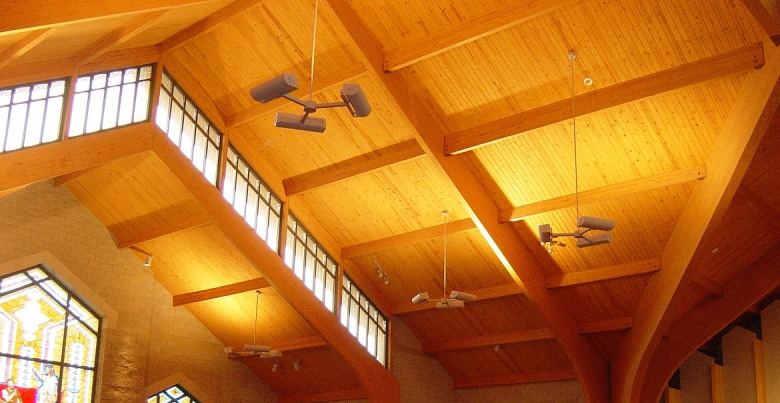 Laminated Trusses & Arches
Our laminated trusses are available in a spectrum of shapes, such as:
Simple Pitched Trusses
Complex Scissor Configuration
Bowstring Trusses with Curved Top Chords
This range of designs makes construction projects much easier, especially when everything is manufactured with the dimensions you request. We also have laminated Tudor Arches that offer an economical solution to elevate your designs.
Tongue and Groove Structural Roof Decking Systems
Our other products feature Solid Timber Decking that provides the classic aesthetic of wood along with labor-saving construction and excellent insulating qualities.
The decking is an essential component for any structure, especially those with laminated timber, arches, or heavy timber as support elements. It combines strong support and a warm wood aesthetic that makes any architectural project timeless.
Laminated decking is a structurally engineered product of two to five kiln-dried lumber laminations bonded with an exterior waterproof adhesive. It's mainly used in heavy timber construction, wood frames, and hybrid systems.
SWS distributes Lock-Deck laminated decking available in random length, long length, and various face patterns, textures, and thicknesses. For more information, please download the Lock-Deck brochure or contact our sales department.